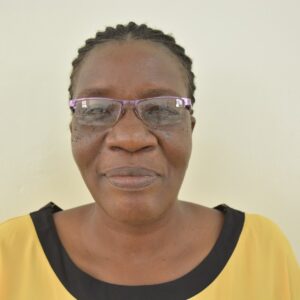 Mrs. Lillian Rateng
Head of Department
Welcome to the Department of Textile, Fashion Design and Cosmetology of Kenya Coast National Polytechnic, which evolved from the Department of Hospitality and Tourism Management.  The department currently consists of two sections:
Textile and Fashion Design section headed by Ms Rose Nyawanda, and
Cosmetology section headed by Mr Kevin Onyambu
The department is committed to respond to your technical and vocational training. The department seeks to partner with you by putting you on a competitive edge in regard to your career and personal development requirements.
We have highly trained academic staff and dedicated support staff who are involved in training
textiles,
fashion design,
garment making,
tie and dye,
fabric printing,
entrepreneurship,
hair dressing,
beauty therapy,
body massage, among others.
The department offers a vibrant academic environment which will nurture your dreams and enable you achieve success. It is our commitment to provide high quality training which produces graduates with the relevant knowledge, skills and attitudes for the global economy and self-reliance.
The department offers various programmes as outlined below:
| | | | | |
| --- | --- | --- | --- | --- |
| COURSE TITLE | MINIMUM ENTRY REQUIREMENT | MODE OF STUDY | EXAM BODY | DURATION |
| DIPLOMA IN FASHION DESIGN | KCSE MEAN GRADE C- | FULL TIME | KNEC | 3 Years |
| CRAFT CERTIFICATE IN FASHION DESIGN | KCSE MEAN GRADE D | FULL TIME | KNEC | 2 Years |
| ARTISAN CERTIFICATE IN DRESS MAKING | KCPE AND ABOVE | EVENING | NITA | 6 Months |
| ARTISAN CERTIFICATE IN TAILORING | KCPE AND ABOVE | EVENING | NITA | 6 Months |
| ARTISAN CERTIFICATE IN INTERIOR DECORATION | KCPE AND ABOVE | EVENING | KCNP | 1 Year |
| ARTISAN  CERTIFICATE IN BEAUTY THERAPY AND HAIR DRESSING | OPEN | FULL TIME | NITA | 1 Year |
| ARTISAN CERTIFICATE IN HAIR CUTTING & BARBERING | OPEN | PART TIME | KCNP | 4 Weeks |
| CERTIFICATE IN WEAVING & BRAIDING | OPEN | PART TIME | KCNP | 4 Weeks |
| CERTIFICATE IN MANICURE & PEDICURE | OPEN | PART TIME | KCNP | 4 Weeks |
| CERTIFICATE IN MASSAGE | OPEN | PART TIME | KCNP | 3 Weeks |